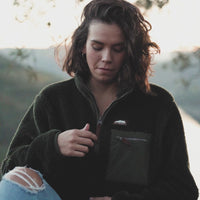 Transhumance now comes to the Projeto Serra Our "Gardunha" honors the shepherd and gain color and shape inspired by transhumance and the search for the ideal conditions for cattle grazing.

The moss green in recycled sherpa knit with side pocket in nylon with zipper application give the Serrano air and elevate the art of herding.
Regarding shipping, the transit time depends on the destination of the order, and we estimate that, for Portugal and Spain, delivery will take between 2-4 working days and, for the European Union, between 4-6 working days. For other destinations the time varies between 6 to 12 business days.
If you are not satisfied, we will offer you a full refund or exchange of your order within 14 days, as long as the products are in their original condition. Projeto Serra reserves the right to refuse returns if the original conditions of the parts are not met.
Get in touch with us via our email info@projetoserra.com, our Instagram and Facebook page or fill out the form below.